Activities in and around Greybull​​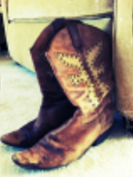 Welcome to Greybull! Perfectly positioned between Cody, Wyoming and the wild nature of the Big Horn Mountains.
We invite you to kick off your shoes and enjoy a less hectic pace, proudly-provided local attractions and affordable and excellent dining, lodging, shopping, and services.
In Greybull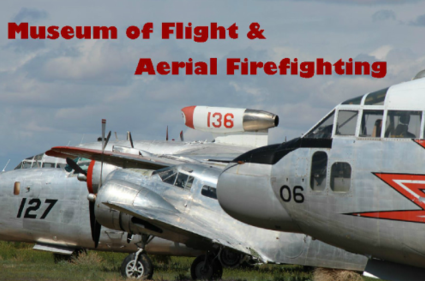 MUSEUM OF FLIGHT AND AERIAL FIREFIGHTING
Many types of aircraft and many different designs have been utilized to combat forest fires since the late 1920's. In the early 1950's, the first modern air tankers were developed and began testing in the Western United States. Our museum's purpose is to preserve a portion of history and is dedicated to education related to the types of aircraft and retardant systems that have evolved over the years into the awesome aerial firefighting capabilities used today.
The 5 planes on display are: C-119's/Flying Boxcar, PB4Y-2's/Privateer, and Beech 18/Twin Beech.
The Museum of Flight is open May 15 to October 15. Look for us behind the WYDOT rest area just North of Greybull. Contact us by email, Facebook or message phone:
flight@museumofflight.us
; 307-765-2100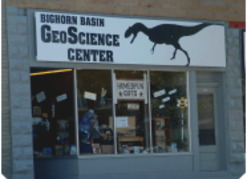 BIGHORN BASIN GEOSCIENCE CENTER
Some great geology and paleontology (fossils & dinosaur) displays! Entrance is free, but donations are appreciated. Hands-on for the kids, big and small! Contact Cliff Manuel at 307-765-2259. This nonprofit attraction is located in downtown Greybull at 537 Greybull Avenue.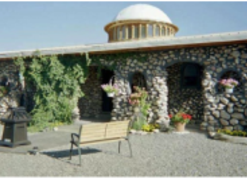 THE ART SHELTER & GALLERY SHOP
Enjoy the Raven's Roost and artistic expressions with a Celtic flair. The Art Shelter can be found one mile east of Shell, Wyoming, Hyw 14 E, across from Dirty Annie's County Store.
Contact resident artist Karyne Dunbar at 307-250-4521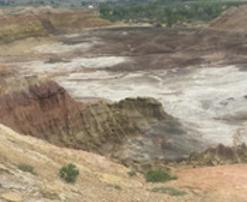 DEVIL'S KITCHEN
(link goes to a YouTube video on the site)
Located 5 miles east of Greybull, these colorful, eerie, exposed rock formations are part of the Cloverly Formation, a 125 to 11-million year-old sequence of colorful sediments containing important dinosaur remains. A walking or hiking tour will reveal fascinating and picturesque "Badland" spires and weathered hills.
Contact the Chamber of Commerce at 307-765-2100 for maps and additional information.
​"The Red Gulch Dinosaur Tracksite is the largest tracksite in Wyoming and one of only a few worldwide from the Middle Jurassic Period (160 million to 180 million years old). Until these tracks were discovered in 1997 most scientists thought the entire Bighorn Basin, and most of Wyoming, was covered by an ancient ocean, the Sundance Sea. The tracks were made at the shoreline by two-legged dinosaurs around 167 million years ago.The tracksite is located on U.S. Highway 14, approximately 10 miles east of Greybull, Wyo. (or four miles west of Shell) to the Red Gulch/Alkali National Back Country Byway turnoff. Head south on the byway approximately five miles." -Bureau of Land Management/Red Gulch Dinosaur Tracksite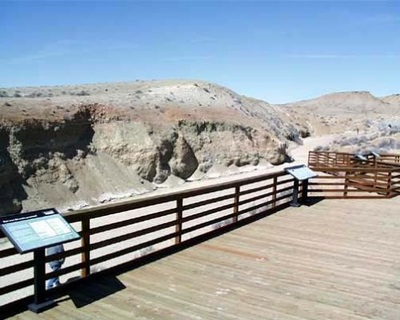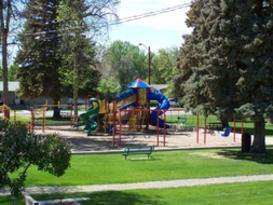 FLORAL DISPLAY
At the west end of Greybull Avenue in downtown Greybull is a 35-foot floral tribute. It is beautiful in the summer and smells great too! Walk down in the evening and take a look at this favorite photo opportunity.

GREYBULL CITY PARK
South 2nd Street and 3rd Avenue South. We have an exceptionally family-friendly City Park for a small town. We are proud to have a wonderful childrens play area, skate/skateboard area, ¼ mile walking track, volleyball court, restrooms, gazebo, bbq grills, and picnic tables in the well-shaded park.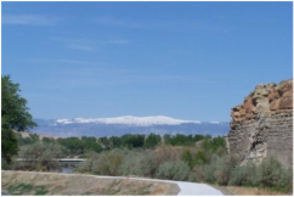 RIVER WALK
The Riverwalk, a paved walking/bicycle path which extends around the three-mile length of town, is located on the east side of Greybull along the Big Horn River. Among the wildlife often spotted are: deer, raccoons, eagles, Canadian geese, ducks, and rattlesnakes! Access to the Riverwalk is available every five blocks with the main access at the Big Horn River bridge at the eastern entrance into Greybull on Highway 14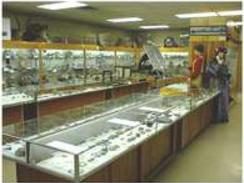 GREYBULL MUSEUM
Pioneer/local/native American/geological history with many cultural artifacts. Fossil collections from the famous dinosaur dig in the area. Downtown Greybull, look for the red caboose! Free Admission. Open year round, call for winter hours. 307-765-2444.
Located 5 miles south of Greybull just off Highway 16/20 on Golf Course Road, this great nine-hole course is just over 30 years old. Member-owned, it is open to the public. The clubhouse has a full service lounge and friendly staff. Tee times are not required. Reasonable rates. Midway also offers a driving range, practice green, motorized carts, and rental clubs. The season runs from mid-March to early November. You are invited to see why the members are so proud of Midway Golf Club. Midway is a USGA member course which enforces the nonsteel spike policy. 307-568-2255.



West of Greybull toward Cody & Yellowstone: On Highway 14/16/20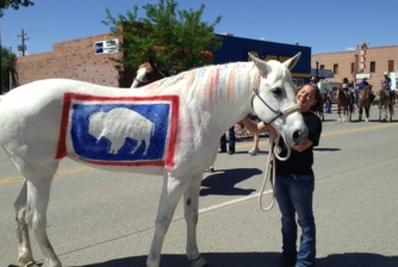 WILD HORSES
McCOLLOUGH PEAKS MUSTANGS
Located west of Greybull towards Cody, Wyoming. Public range begins 15 miles west (north/right side of highway) of Greybull on Highway 14/16/20.
FOAL
, Friends of a Legacy, is an organization of gracious souls trying to preserve and protect this wild horse herd and its heritage. Keeping mustangs wild and free!
BRIDGER TRAIL CROSSING
In 1864 the "rush was on" after gold was found in Montana. Discovering and using this trail was a safer route to Montana gold. Famous western mountain man, Jim Bridger, led wagon trains of folks on this trail to get to Montana to prevent more fights with Native Americans on the "Bloody Bozeman" Trail, east of the Big HornMountains.
View map here.
East of Greybull - to Shell, and the Big Horn Mountains
BIGHORN NATIONAL FOREST
- Big Horn Mountains via the
Bighorn Scenic Byway